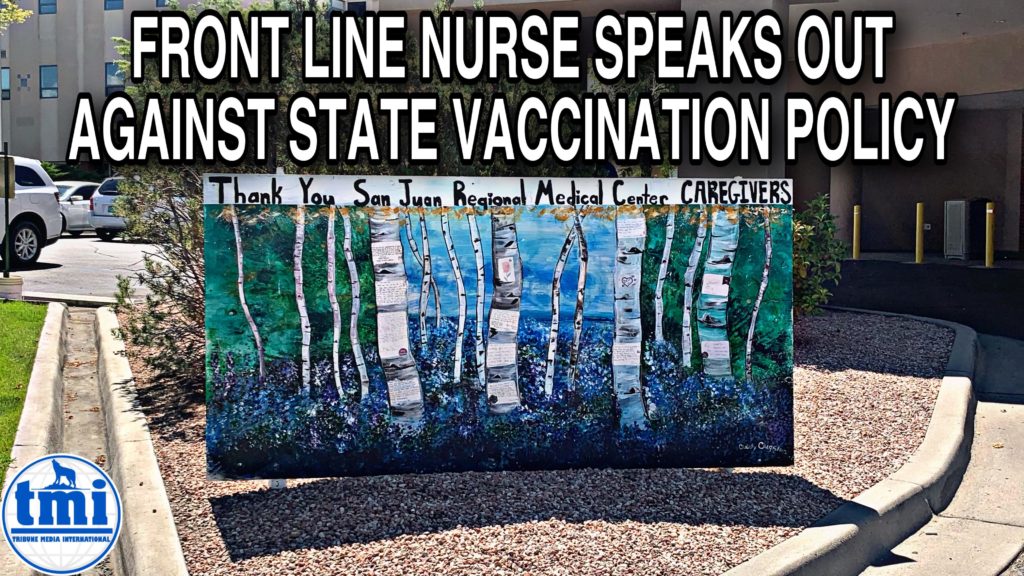 From the Desk of Shawn Bradley Witzemann – 23 August, 2021
Farmington, NM (TMI) — As the ongoing pandemic has ravaged all aspects of American life, nurses and other healthcare professionals have been praised by nearly everyone for their dedication to providing care in the face of uncertain risk, but vaccination mandates are now causing some front-line workers to question whether or not their lives have any worth at all.
According to transcripts (page 2, 3, 4) of an internal virtual town hall, obtained by Tribune and conducted by San Juan Regional CEO Jeff Bourgeois, hospital administrators have received "a flood of questions" regarding the State of New Mexico's recent Public Health Order, which was released on August 17th.
During the meeting, Bourgeois explained that the vaccination would be mandatory for all "employees, volunteers, contract workers, students, licensed independent practitioners, and all members of the SJRMC Medical Staff" at both San Juan Regional Medical Center, and San Juan Health Partners.
Bourgeois went on to explain that exemptions (medical, disability, religion) could be applied for, but in the event that an exemption was granted, workers would need to submit to weekly COVID testing as a condition of employment.
Tribune was recently contacted by an SJRMC nurse who is refusing to take the vaccine, or submit to weekly testing, citing what they believe to be obvious discrimination.
"If people who are vaccinated can still get and transmit COVID, is this mandatory testing not discrimination against a particular group of people?"
Our source spoke to us with a condition of anonymity, for fear of unwanted retaliation, but agreed to go public in the event of termination.
Those who fail to obtain an exemption, or refuse to comply with SJRMC policy could lose their jobs as soon as Friday, August 27th; just ten days after the state mandate was announced.
"San Juan Regional is holding our livelihood over our heads," our source explained, while heaping praise on coworkers who have been working tirelessly throughout the course of the pandemic, "I don't understand the sudden mandate. We've been doing this for months on end, exposing ourselves to COVID patients. Now we get a mandate, with only 10 days to comply?"
Our source explained how over the course of the last 18 months, much of what has been officially publicized does not accurately reflect reality on the COVID floors of SJRMC.
"In the beginning, it didn't matter what people died from. It didn't matter what the actual cause was. If a patient presented with symptoms, it was COVID. Every death was classified as COVID."
When we asked our source to explain why they thought that sort of practice would happen, it sadly validated the suspicions of many.
"A COVID diagnosis and the associated isolation results in an up-charge that the hospital can then bill to the Federal Government."
We asked about the current shortage of nurses and other hospital staff.
"Each nurse is responsible for up to 7 patients. Almost always 6. Ideally, we would be taking care of 3," they explained before once again, praising the floor manager, who "usually works nights, but is always willing to come in during days when there aren't enough nurses available to handle the amount of patients."
We asked what was being observed, in regards to an increase in COVID patients.
"ICU is full, but has almost always been that way. Right now, they are treating 2 COVID patients," they explained, "Health officials like to use that number to say a hospital is at full capacity, but it's a bit misrepresentative. We see a lot of people presenting for COVID, who are already on oxygen as a part of their daily lives, who are then admitted and treated with oxygen. It makes no sense. We see more young people than we did last year. Lots of flu and RSV like we would normally see during winter."
We asked what role the Delta variant seemed to be playing in the number of patients.
"I asked one of our doctors how we could tell if someone had Delta. He said we couldn't. We just send tests off to the state, but we have no idea at SJRMC what percentage of tests are actually run through genetic testing once they leave the hospital."
Previous conversations Tribune has had with anonymous sources in the SJRMC lab corroborate this assessment.
We asked if the majority of patients were unvaccinated, as the New Mexico Department of Health claims.
"No. The majority of patients are vaccinated."
We asked why our source thought this wasn't being reported by official sources. "It doesn't go along with their lies." We asked why they thought some are hesitant to take the vaccine, but seem more willing to take Remdesivir (the experimental therapeutic which is currently authorized under emergency use).
"Most COVID positives just need some vitamin C and they start feeling better in no time at all. In the beginning with Remdesivir, the doctors would make a bit of a big deal in explaining to the patient that it was experimental, and have them sign off on a consent form. They don't do that anymore. I don't know why. We know it's bad for the kidneys."
We asked if the pending FDA approval of the Pfizer vaccine would have any impact on our source's decision to refuse the shot or weekly testing, and they said "absolutely not", citing a lack of trust for the federal agency. According to a press release (1), the FDA granted full approval for the Pfizer–BioNTech COVID-19 Vaccine, for those 16 years of age and older, while also extending the Emergency Use Authorization for the 12-15 year old age group, as well as a third booster shot. Our source's stance on the matter remains unchanged.
"The hard part is looking at it, seeing all the negative consequences, and asking what is my life worth. I pray every day that the reports of negative reactions are wrong, but it doesn't seem that way. I just want my fellow nurses and healthcare workers who don't want to be forced to take this shot to know they aren't alone. I want to get the word out. This is our community hospital. We need to stick together."
Tribune reached out to SJRMC CEO Jeff Bourgeois, Mayor Nate Duckett, and San Juan County Sheriff Shane Ferrari for comment on the matter, but all had yet to respond prior to the time of publishing.
UPDATE – After publishing, our source contacted us and asked that we make the following clarification: "Not everyone who is here has had their vaccine, but we have had people that have been vaccinated, and vitamin c is not making everyone better but is given with other medications to treat COVID."
UPDATE 2 – Tribune spoke with Sheriff Shane Ferrari this morning. 8/24. It was a wide ranging conversation, but his support for medical freedom was apparent. He has been working to pass on the appropriate resources to everyone who has been flooding him with questions. More details of the conversation will be published in a subsequent article.